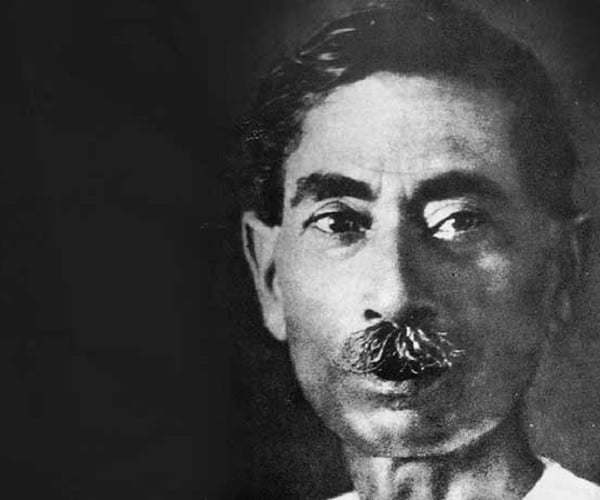 Munshi Premchand, one of the greatest literary figures of modern Hindi literature was born on July 31, 1880.
Premchand was born in a small village Lamhi, near Varanasi in Uttar Pradesh. His name was Dhanpat Rai. He lost his mother at a very young age and was brought up by his grandmother. But after his grandmother died, his father remarried. His stepmother did not love him, and Premchand grew up missing his mother. This loneliness led him to fiction in which he found solace.
Premchand received his initial education in a madrasa from a Maulvi, and he learnt Urdu there. He was married at a tender age of fifteen against his wishes. When he was sixteen his father died, leaving him to take care of his stepmother and younger stepsiblings. He started earning by giving tuitions. With a lot of effort, he passed his matriculation and started teaching in a school, earning eighteen rupees monthly. He continued his studies and privately passed his intermediate and B.A. examinations.
His earliest writings were in Urdu, the first being 'Soz-e-Watan' or The Dirge of the Nation, which he wrote under the pen name Nawab Rai. 'Soz-e-Watan' was a collection of short stories, and was labelled as anti-government and banned. All the copies of the books were burnt. He changed his pen name from Nawab Rai to Premchand and started writing in Hindi. He used very simple day-to-day Hindi dialect and avoided using highly sanskritised Hindi.
Before him, Hindi literature only had works on fantasy and religion. Premchand started writing on real issues troubling rural and urban India. He wrote on corruption, the feudal system, poverty, debt, child marriage, prostitution and colonialism. He also wrote extensively on the socio-political conditions prevailing in India at that time. He was against industrialisation, and his support for farmers is reflected in his work.
He wrote about three hundred stories, a dozen novels, plays, essays, letters and translations. His short stories have been compiled and published under the title 'Maansarovar'. His famous works include 'Pus ki raat', 'Kafan', 'Idgah', 'Godaan', 'Gaban', 'Shatranj ke khiladi', to name a few. A lot of his work has been translated into English, Russian, Chinese and many other foreign languages.
Inspired by Gandhiji, he quit his job and started working towards generating patriotic feelings amongst fellow Indians.
He was also a great social reformer. He married a child widow, Shivarani Devi, who wrote a book on him after his death. He died at the age of fifty-six after a prolonged illness. Premchand was honoured with the title of 'Upanayas Samrat' meaning 'Emperor of the Novel' for his immensely invaluable contribution to the Hindi literary world.
Text by Tasneem Dhinojwala